Conferences Unlimited
Offering an enviable blend of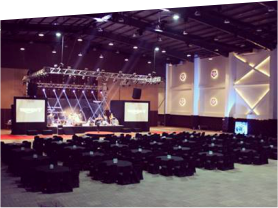 opulence and customization, our elegant space is luxuriously suited for bringing forth old-world hospitality and advanced technology on a single platform. The advantage of easy accessibility that a prime location of Jubilee Hills offers in the convention and conference hub of Hyderabad translates to proximity for your guests to the microcosm of Indian culture, as Hyderabad is often described as. Tailor-made layouts, capacious spaces, advanced AV facilities and natural acoustics that accommodate your requirements – you can have it all along with professional expertise of our staff, at JRC.
Business Meetings at JRC
Witness luxury meeting hospitality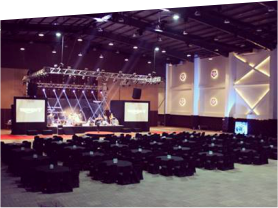 at JRC, a perfect venue for meetings! Whether it is a gathering of 5000 or an intimate event comprising five attendees, trust our expert staff to have all the necessary prerequisites ready for a successful meeting. At the forefront of technology, we offer our privileged clientele state-of-the-art facilities along with well-coordinated technical support for smooth management of the event. A single point of contact at all times adds to the convenience of organizing meeting the JRC way.