Make Your Wedding memorable
One of the most exclusive wedding venues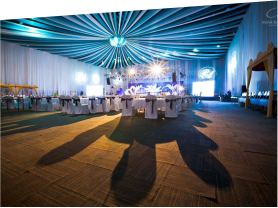 of the city of pearls, JRC proffers an opulent yet personal affair to remember for years. As you step in to celebrate the bond of a lifetime, we painstakingly craft every minute detail to make the wedding memorable for guests and family members as well as bride and groom. Classically proportioned spaces that blend effortlessly into thematic weddings, receptions and traditional ceremonies, every team member of JRC strives to ensure that the special day is made unforgettable.
---
Venue
From our grand hall for lavish weddings and functions to a more intimate arrangement for a simple affair, trust JRC to translate your wedding ideas to reality. Paying attention to every little detail adding up to a perfect setting, JRC offers a sprawling lawn that lends a natural, earthy style to wedding and pre and post wedding ceremonies.
The venues are fully customizable to cater to different guests that you may have and making them comfortable during the pre-wedding celebrations.
The privacy and comfort is guaranteed for the bride and groom and their immediate families and we go further to ensure that the most important event is spectacular and memorable.
---
Catering
It is said that the food at the wedding leaves a lasting impact. You have been probably planning for the D-day for years. Don't let stress spoil your plans. We are a one stop shop for catering arrangements for engagement, cocktail parties, weddings and reception. We suggest, plan and coordinate cuisine styles taking care of both taste and presentation.
Our special customized services:
Comprehensive catering to suit communities, religions and personal preferences
Fruits and vegetable salad dressing
Wine suppliers
Indian and western sweets
Choice of vegetarian or non-vegetarian fare
---
Wedding Services
Setting the mood for the special day, our décor concepts are elegant, simple and a personal style statement. Our team of highly experienced production and technical personnel organize a perfect style, setting and theme – from start to finish. We provide all services under one roof thus saving time and money. We offer customized solutions so you may pick any service or all services according to your personal choice and budget.
Our special customized services:
Choice of traditional or contemporary décor with schematic lighting, floral arrangements and table-top layout
Spacious hall offering comfortable seating arrangement to all guests
Music & Entertainment shows and DJs and singers arrangements for various functions
Delectable cuisines from around the world offered in our catering Services
Wedding aisle accessories
Photography & Videography arrangement
Customized facilities to suit your budget